Muhammad Ssegiringa has been sick for a while and is hospitalized at Mulago. Bobi Wine paid him a visit and twitted a post with a caption "Visited Hon. Muhammad Ssegirinya at Mulago Hospital to ascertain his state of health and give him moral support. He's in great pain. He told us regime apologists and operatives have been frequenting him asking him to apologise to Gen. Museveni on camera if he wants his freedom!"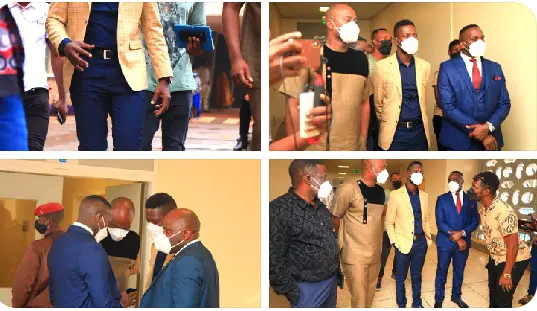 People have reacted to this post with different comments and here are some of them:Justine: "Hon. Ssegirinya has HIV/AIDS and has not been taking his medicine as prescribed by the doctors at Mulago," the medical officer said, adding that the MP's CD4 count has dropped to 11 and as such his body cant effectively fight off infections related to HIV/AIDS.
Ugandan: Because of your messages and patriotism I am loving my country #Uganda again. But the political games of Museveni and #FriendsOfDictators against the citizens of our country had made me hate my beautiful country. a platform of young Ugandans with love for fellow citizens
Alanz: Thank you for the good heart papa .. hope police respected itself .
Kibet: Your visit to Hon. Ssegirinya at hospital will definitely quicken his healing process, we pray that the state allows him to access better treatment as asserted by Madam deputy speaker & fellow Mps.
Khali: His lawyer said he's in a bad state and can't talk but he managed to tell you that? We want change naye opposition twetaga okwetereza
Tr: Now apologizing for what??? Useless regime!!😡😡
Continue being there MR.UPDATES one day, God will see you through.
Eyeesiga Mukama alinga olusozi SSAAYUUNI!!
Speedy recovery bambi!!