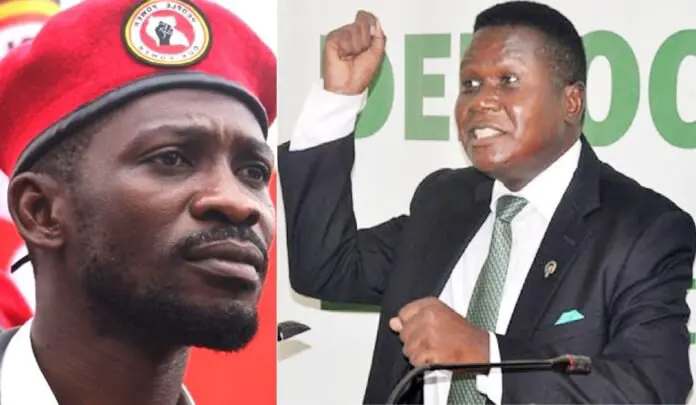 Democratic Party (DP) President Norbert Mao has castigated Robert Kyagulanyi aka Bobi Wine and his NUP for being 'hypocrites.'
According to Mao, it is hypocrisy for Bobi Wine and his NUP party to criticise the airlifting of Speaker Jacob Oulanyah to the US for treatment yet some of the Kamwokya-based party's top members are among the beneficiaries of medical trips abroad.
"There are categories of people entitled to receive treatment abroad at public expense with the approval of the Medical Board," said Mao.
"The NUP hypocrites and the Speaker are entitled people."
He also clarified on his airlifting from Gulu to Entebbe International Airport via a military helicopter.
"When I fell sick in 2014 I wasn't entitled and no public funds were spent on my treatment.The only public contribution to my evacuation was the UPDF helicopter which took me to Entebbe from Gulu. The rest of the expenses were purely private. I remain grateful to the UPDF for giving me a lift," he explained.
"The flight to Nairobi and all treatment was purely privately paid for.I'm sure if I had collapsed by the roadside and a UPDF lorry carried me to a hospital these corrupt hypocrites would be yapping about it till Jesus returns. An emergency helicopter ride approved by the authorities does not require the Medical Board's approval. Stop the hatred!"
He further criticised NUP for mobilizing protests outside a Seattle hospital where Oulanyah is being treated.
"I don't mind citizens demonstrating against the abuse of public resources. As a matter of principle I support it," wrote Mao.
"By demonstrating outside a Seattle hospital you're at the wrong address."
Mao has also revealed that Speaker Oulanyah was ready to die in his house.
Read Story : Bobi Wine, Diamond Platnumz And Jose Chameleon top the list of richest musician in East Africa