The owner of Mamelodi Sundowns Club, Patrice Motsepe has been appointed as the new CAF President for the next four years.
The south African Billionaire Was elected unopposed to replace outgoing CAF President Ahmad Ahmad.
FIFA  President Gianni Infantino Convinced the other candidates in the race to Vacate the race inorder to help Motsepe to win the CAF Presidency at the 2021 U 20 AFCON Final.This was done  beause the other candidates for the post had withdrawn their bids after being promised other roles and Some of his senior representatives.
Augustin Senghor of Senegal and Ahmed Yahya of Mauritania as CAF president,while Jacques Anouma of Ivory Coast will be the Chief to Motsepe.
Former incumbent confidante Ahmad of Madagascar, wanted to run but was unable to as he is Serving a two year ban corruption Charges.
Dr.Patrice Motsepe's First Words Upon his election as CAF President:" Ithank my brother Gianni Infantino, for the vision and the encouragement of Unity.We can only deal with the Challlenges of Africa when we are United."
Motsepe is a nineth billionaire in Africa and he has been appointed as the nineth CAF president.
The 59 year,is the first South African to be elected for CAF Presidency.
Who Is Patrice Motsepe?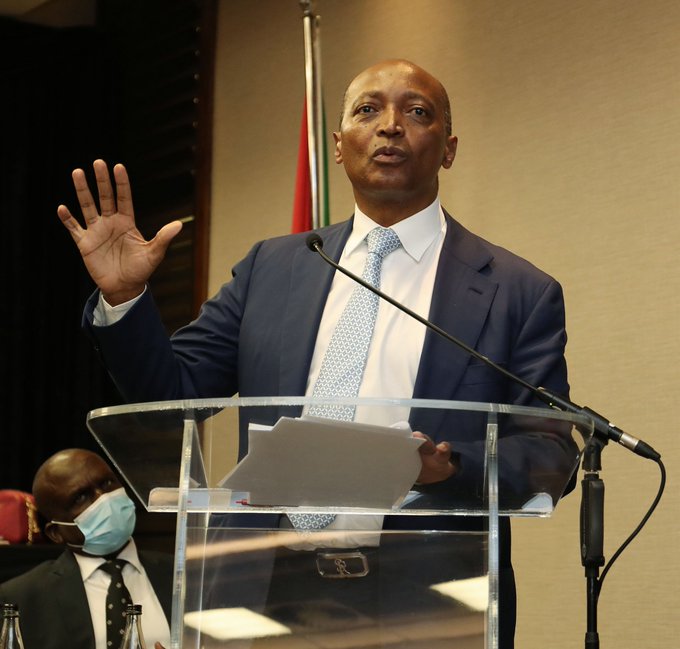 Patrice TIhopane Motsepe was born on 28th January,1962(age 59),Ga-Runkuwa,Johanesburg, Pretoria ,South Africa.
His father is Augustine Motsepe and mother is Key Motsepe .Motsepe has two elder sisters,Tshepo Motsepe  who is married to South African President Cyril Ramaphosa and Bridgette Motsepe who is married to Minister Jeff Radebe.
Motsepe's father is a chief of the Mmakau branch of the Tswana People,who had previously been a school teacher and was later a small businessman as the owner of a Spaza Shop which was popular with black mine works.Therefore, it was from this shop that Motsepe learned basic business principles from his father, as well as first-hand exposure to mining.
Motsepe earned a Bachelor of Arts degree at University of Swaziland and a law degree from the University of the Witwatersrand.
Motsepe specialized in Mining and business law .In the 1990's, he entred in the mining business and stated his company 'African Rainbow Minerals' which owns gold,platinum, nickel, coal and iron  mines. He is the CEO of Hamony Gold, one of the largest mining companies in the world.
He is married to Dr. Precious Moloi-Motsepe  a physician and an entrepreneur since 1989 and the couple is blessed with three children, Kgosi Motsepe, Thlopie Motsepe and Kabelo Motsepe.
Sports.
Motsepe is the owner of Mamelodi Soundowns FC a South African Premier league soccer club.
In November 2019,Motsepe bought a (37 %) stake in the Blue Bulls Co. The other major share holders are Remgro (37%) and Blue Bulls Rugby Union (26%).
On 12 March 2021, he was elected unopposed as the president of Confederation of African Football (CAF).
.