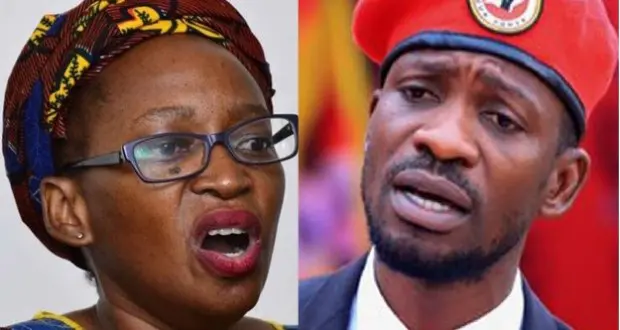 Around early March this year while in Kenya where she had sought refugee after the contentious 2021 general elections claiming her children and herself were not safe, Stella Nyanzi launched scathing attacks on the National Unity Platform boss Robert Kyagulanyi Ssentamu.
The attacks believably emanated from the fact that NUP denied her the party ticket to stand for Kampala Woman MP and they choose Lawyer Shamim Malende who would later sweep all the votes with a huge margin and Stella Nyanzi came second but she turned her anger to Bobi Wine.
However, as he's known for always not hitting back at his critics, Bobi Wine never said a word to Stella Nyanzi because he's driven by a phrase in Luganda which he always says that "Ebitalina Makulu Tebitumalila budde" which loosely translates that "Unimportant things never wastes their time" he only majors to majors and minors to minors.
With few hours to Christmas, Stella Nyanzi has changed the tone on Bobi Wine whom she abused with all sorts of words. In her latest post, she seem to have discovered that Bobi Wine is a force to reckon with and wishes to mend the broken relationship the two had before things went south.
"My criticism of you, notwithstanding, I can not undermine the charisma with which you encouraged youths, poor people, urbanites on the periphery of power, and several dillusioned social groups to actively participate in Uganda's elections"- Writes Nyanzi
Known for using poetry particularly obscenity, undressing herself on cameras to express her dissatisfaction with other people not limited to President Museveni who even imprisoned her for close to two years for abusing him and his late mother, Stella Nyanzi is currently based in the diaspora in Germany where she's enjoying good life.