Incumbent President Yoweri Kaguta Museveni defeated his close competitor, the National Unity Platform leader Hon. Robert Kyagulanyi aka Bobi Wine in hotly contested Uganda general elections held earlier this year. The two leaders are known to be fierce political enemies and they don't see eye to eye. Bobi Wine at some point complained about rigging by Museveni's party.
The two political enemies are locking horns since Bobi Wine's party is accused of having plans to overthrow the government. According to reports from Uganda, five National Unity Platform leaders have been arrested for attempting to overthrow incumbent President Yoweri Kaguta Museveni's Government.
According to NTV Uganda, the Police in Kasese has slapped five National Unity Platform (NUP) members with a charge of plotting to overthrow the government. This comes a day after police and UPDF forces arrested 5 NUP members for allegedly holding an illegal meeting.
"The Police in Kasese has slapped 5 NUP leaders with a charge of plotting to overthrow the government #NTVNews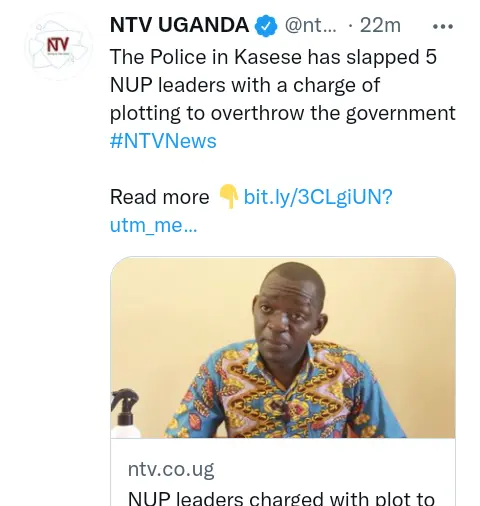 Read also: Bobi Wine receives huge reactions from Kenyans on Muhammad Ssegirinya