Zari Hassan is a Ugandan celebrity based in South Africa. The female star was born in Uganda and moved to Douth Africa where she runs a business, Brooklyn City College which is a tertiary institution that she found with her late husband. The 40 year old woman is a mother of five, a reality TV star, socialite, entrepreneur and a business woman.
Zari Hassan was made angry by trolls and Netizens who were trending stupid topics about her on the internet on a scenario that happened a long time ago. Netizens were criticising the socialite and business woman for having worn a black underwear under a white short dress on her 40th birthday party. Though it was barely and hardly seen, some Netizens saw and made it a discussion on the internet which apparently was trending.
In a short video that the female star made on her Instagram stories, Zari Hassan expressed her anger and disgust of people who were idle that were trying to make an old scenario trend now. She said, "some of you a very stupid. I remember said common sense is not common, it is not for a everyone. I wonder why I'm trending now on a scenario that happened long ago about wearing a black underwear under a white dress. You can not wear a white underwear under a white dress because it will show. Ya'll are so stupid and idle".
(Photo Courtesy)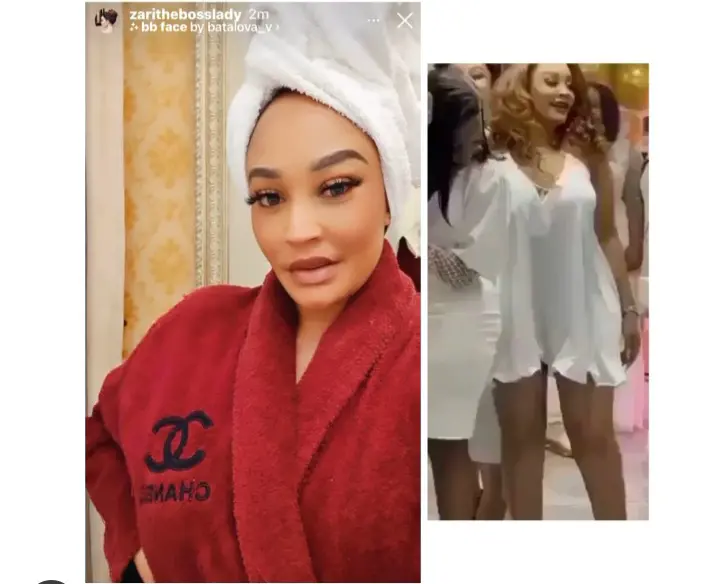 Netizens quickly addressed the rumours and Zari Hassan's expression of anger towards trolls under the comment section. Some fans commented saying that they have learnt a lesson, others backed up her "school of thought" on the underwear while the rest simply scolded her for barking at them like a dog yet she is the one who wore the black underwear.
(Photo Courtesy)